What is MihanPayment?
How it works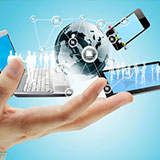 Iran with more than 35 million Internet users is one of the largest countries in terms of Internet participation. Many companies provide their products and services to Iranian users.
However, these international companies hit a stumbling block, online payment transactions. In Iran there are no Visa, MasterCard, international credit cards or PayPal accounts. Iranian users only have access to Iran's banking network and prepaid cards.
MihanPayment is a bridge between international websites and Iranian users. It provides online payment from all Iranian banks & Bank cards.
MihanPayment is a transparent interface which automatically transfers the user from vendor sites to Iranian banks sites. After the transaction has completed the client with the relevant parameters return to the vender's site via MihanPayment.
MihanPayment with a simple integration process can connect your project to all Iranian banks and can price your product(s) and services to Iranian users in their local currency or your choice of currency.
MihanPayment charge between 7% and 15% commission on each user's transaction with monthly vendor payment settlements, subject to a minimum threshold of €500.
MihanPayment has an additional payment method called AmnCard. AmnCard is a prepaid card that can be purchased from any of our authorised outlets. The commission is 20% of the purchase price and the settlement is monthly subject to a minimum threshold of €500.
AmnCard can be added to your website with a simple integration process.​
Online Payment Gateway
All Iranian banks. A commission of 7 to 15%
The following games are using MihanPayment as their payment gateway
Contact us
Feel free to send us your questions and requests!